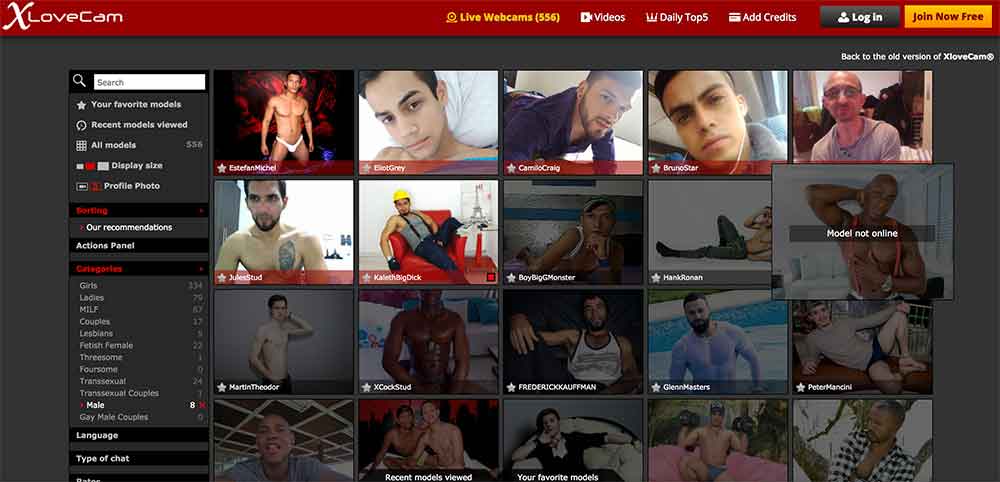 8
Content
8
Price
8
Features
Visit XLoveGay
The Bottom's Line
XLoveGay is the gay male and male couple content from webcam site XLoveCam. This is a well-known gay chat site which features hot guys from all over the world. Since it got started in 2006, XloveCam has gained a devoted following. While it doesn't have the largest selection of guys, it does offer quality models at affordable prices. And with about 1000 registered male models, you're bound to find at least a few guys who pique your interest.
Content
With XloveCam you get live gay cam shows, model galleries, and pre-recorded shows. Most cams broadcast in full HD, but not all, and sadly there is no way to filter. Still the site has all the features you'd want in a cam site as well as a few you might not expect:
Free webcam shows to chat with models and request private shows
Private group or 1 on 1 Xclusive shows with models paid for with credits, including talking via microphone or Cam2Cam features for a more intimate experience
Free image galleries in performer bios
Free videos in (some) performer bios
VIP membership from some models, offering exclusive access to special shows and videos
Free email messaging on the site with all performers
Competitive rankings and feedback systems for performers
Some private shows offer a Sneak Peak feature to view short bits of action before deciding to join in
The address above specifically takes you to XLoveCam's gay offerings, though the site as a whole offers all genders and types of performers, including women, men, transsexuals, and all manner of pairings thereof.
Categories
There aren't a ton of top-level categories for the XLoveCam gay models, just male and couples. However, users can refine their browsing for models by any number of criteria, including languages spoken, type of chat, rates, age, hair color, ethnicity, and much more.
Annoyingly there is no option to filter or sort out non-HD streams, or to search based on common male criteria like cock size, cut vs. uncut, or sexual role.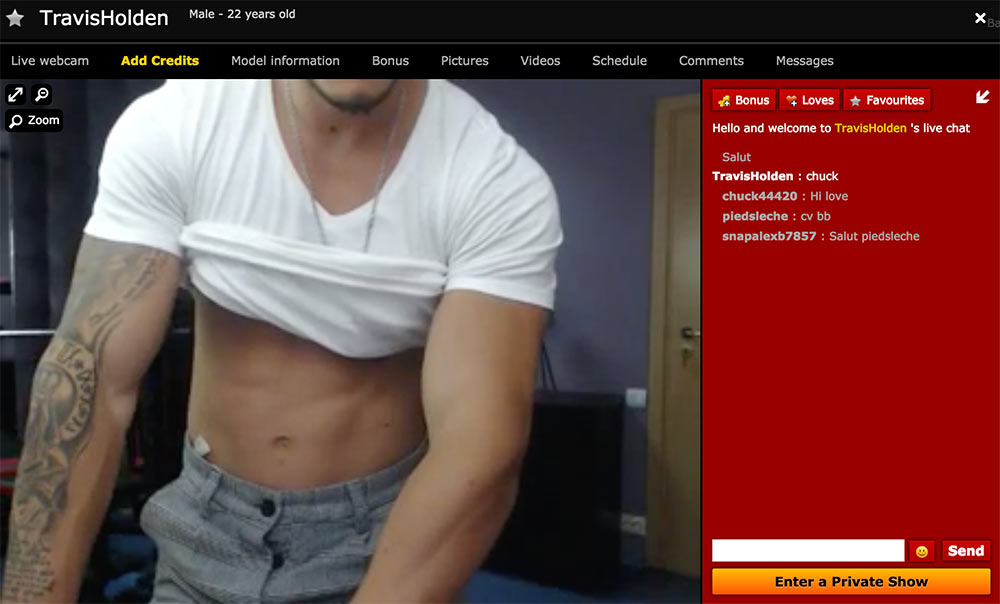 Star Power
XLoveCam is predominately an amateur site, and there is no top-level category for pornstars. However, there is a good mix of truly amateur-looking models as well as some guys that are so chiseled and muscular, they could easily be mistaken for pornstars.
Network
While not part of any specific network or studio affiliation, XLoveCam is owned by Shoshoro NV, a video chat and services technology company that runs several other sites. As such, some models and content may be found on other sites as well. Credits and other features of XLoveCam do not transfer to other sites, however, so it is virtually a stand-alone site.
Subscription
FREE GAY CONTENT!
Access to XLoveCam is free, and signing up for an account only requires a username, password, and valid e-mail address. Free accounts can access all free chats, which are generally teasers to allow you to text chat with models and entice you into a private show. Free image galleries are available in each model's profile page, as are some free videos and pre-recorded shows. For private shows, of course, you need to purchase credits.
Unlike many sites, credits are directly tied to dollars – that is, $1 is $1 once converted to credits, so there are no complicated conversion rates to figure out, which is nice. The cost of credits can vary somewhat based on the payment method used to purchase them. Band transfers take the largest cut, with Paysafe cards and Paypal in the middle. Direct credit card billing gives you 100% of your purchase price in credits, and is the best deal.
The rates for each performer are chosen by the performer, so the cost for private shows can also be quite variable. Lastly, VIP passes are available on a per-model basis, also at variable cost. These give access to special VIP features and shows that models hold, though not all models participate so availability will vary by model. As always, we recommend users be cautious in buying credits, as a single private show can deplete your wallet pretty quickly.
Our Advice: Start with a free account, look around, and if you like what you see, buy a small amount of credits. They can be depleted very fast, so it's better to start small and understand what you get for your money, as the cost of private shows and VIP passes can add up very quickly!