8
Content
9
Price
9
Features
Visit LiveJasmin
The Bottom's Line
LiveJasmin Gay has an easy-to-use interface, great video quality, and standard to exceptional technology when it comes to private shows. If you're very choosy and like a massive catalog of guys to choose from, you might want to look elsewhere. Also, if you just want to rub one out quick, regular old porn is probably the way to go. But if you're really into cam boys and prefer quality over quantity, then LiveJasmin Gay is a great place for you. While they generally cost more than an amateur site, you get what you pay for – the interactive experience and ability to feel up-close and be part of the action is hard to match. Just our standard note of caution, the cost of a private show adds up very quickly, so know your financial limits before falling in love with a buff beefcake on LiveJasmin Gay.
Deal of the day!
9.99 Credits, roughly a $13 value. Card Validation, or first purchase
View Deal
Overview
LiveJasmin's Gay content is part of the award-winning and well-known LiveJasmin cam site. No doubt you've come across their pop-up and interactive ads while surfing other adult sites. They have an iconic red branding and simple, clean interface that is difficult to forget. All of this, coupled with some of the hottest male models of any cam site has turned LiveJasmin Gay into one of the default destinations for gay cam content. The overall site was founded in 2008, and has grown to over 35 million registered users and over 20,000 total cam models. While traffic analytics don't break out sub-domains, the overall LiveJasmin.com site is currently ranked 4th in the Adult category for global traffic by Amazon's Alexa service. LiveJasmin Gay is also the 12th most frequently clicked search result for "Gay Sex Cams" on most major search engines.
Like many cam sites, LiveJasmin Gay lets users interact with amateur and professional male models and gay couples in private one-on-one cam sessions, in exchange for a fee paid in credits. The company takes a cut, and the models get the balance. The rates and services available for a particular show vary greatly from model to model. There are typically many models to choose from, with latest review showing over 100 gay solo or gay couple models available even during "off hours" in the US.
Content
LiveJasmin Gay, like the overall LiveJasmin site, is primarily a webcam site where users can get involved in one-on-one or one-on-couple private video chats. Some features are freely available, such as fully-clothed teaser chats with models before committing to a private session, and the ability to exchange messages with models, bookmark favorites, and similar.
Importantly, though, the offerings in the gay male/gay couple category, as compared to the rest of the site's female/lesbian/hetero couple/trans content, are somewhat lacking. All the same features exist, but the overall catalog makes up a very small percentage of the site's overall 20k+ models.
The different types of show features available include:
Private one-on-one shows and chats
Two-way chats via audio or webcam (both the user and model/models using a microphone or webcam to really put you right there in the action)
Scheduled shows, a relatively new category, that feature the top models on the site at a pre-scheduled time and often with a particular show theme
VIP shows, which can offer users extra intimate experiences (though at an increased price, of course)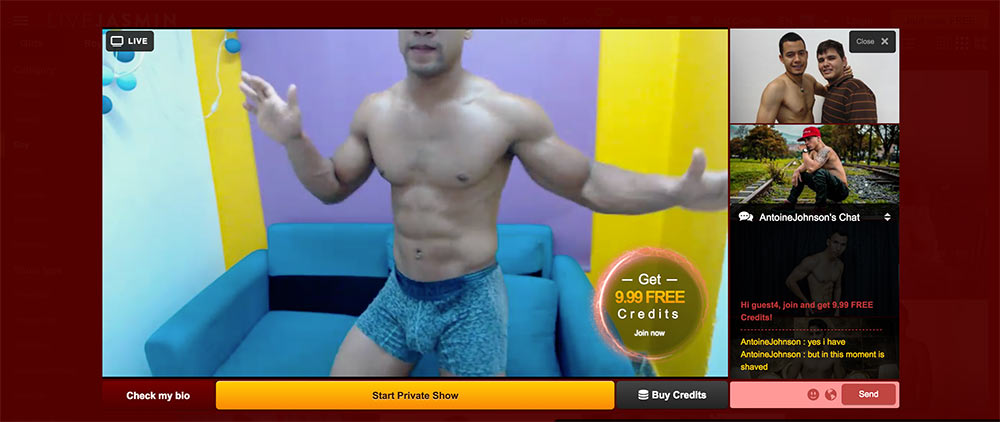 Categories
LiveJasmin Gay, and the overall Male/Gay/Gay Couple/Trans offerings in general, fall into the traditional categories that one would see on most cam sites. There are easy-to-use filters and search features as part of the site's simple and intuitive interface. These features allow users to pick exactly the guy or guys they are looking for. The top-level categories in the male offerings on LiveJasmin Gay include filtering by Show Type, Ethnicity, Price/Rate, Age, Appearance, Hair, and what they're willing to do in a private chat. Additionally, users can access all the other content and categories on LiveJasmin, including solo straight guys, hetero couples, transsexuals, and the entire female catalog, which is great for people who don't fall neatly into one orientation category.
Star Power
LiveJasmin Gay doesn't generally feature any big-name male adult film stars, straight or gay, like other cam sites sometimes do. However, the majority of the models in the male and gay sections are already significantly more attractive than what you will find on more amateur cam sites. Most of them look like they walked out of your favorite porno or a professional modeling agency – they're buff, hot, and willing to please.
Network
LiveJasmin is a stand-alone site, and not part of or affiliated with any studio or network. LiveJasmin Gay is simply one of the category offerings within the LiveJasmin site, but does not link to any other sites or porn studios domains.
Subscription
FREE GAY CONTENT!
Access to LiveJasmin Gay is totally free, and setting up a free account just requires an email address, username, and password. This gives you access to the free, mostly-clothed chats with the models, allows you to browse the selection of guys or couples that are available, message your favorites, and purchase credits to pay for private shows. There are no fees or subscription plans – the only expense is buying credits.
Credit costs roughly translate into about $1 per credit, sometimes more, sometimes less depending on how many you buy at once and any promotional deals that are active. Each model and show varies in terms of credit cost, with some being as inexpensive as around 1 credit per minute, and others being up to 10 credits per minute. Typically couples will cost more than solo models, and the more they are willing to do (e.g. Anal, Cum Eating, etc.), the higher the cost. There is also a useful feature called SmartPay, that will allow you to have uninterrupted sessions by automatically re-buying credits as your account runs down. While convenient, this can be very dangerous if you're not careful – it's very easy to spend hundreds of dollars in credits an hour, but saves the hassle of interrupting a good wank.