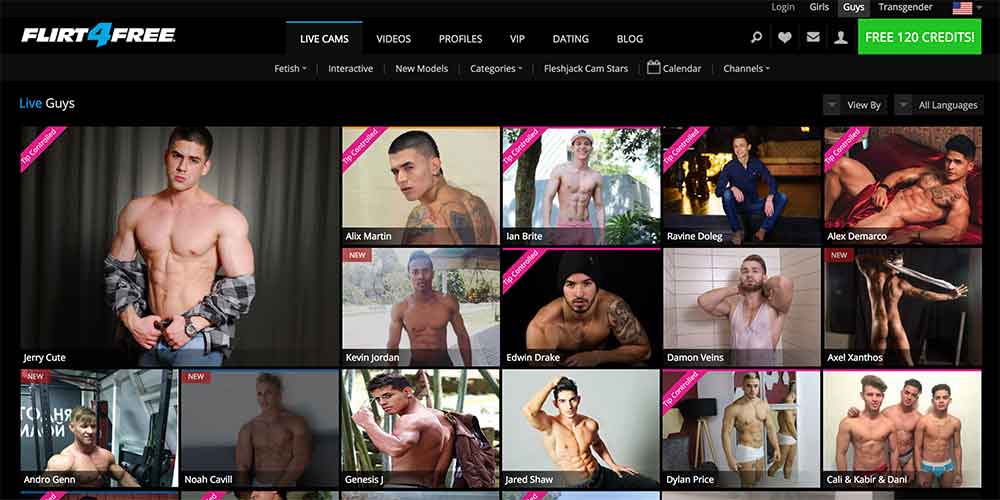 8
Content
7
Price
10
Features
Visit Flirt4Free
The Bottom's Line
Flirt4Free Gay is a quality site with a number of excellent features. Credits are affordable in comparison to other similar websites. The free account and initial credit offer will allow you to take a look around and see if you'd like to spend more time and money here. We just suggest skipping the VIP membership, and spending that money on credits instead.
Deal of the day!
120 Credits, roughly a $5 value. Card Validation, or first purchase
View Deal
Overview
Flirt4Free Gay encompasses the male model/male couple portion of the Flirt4Free website (which includes females, lesbian couples, straight couples, and transgender performers as well). It is a webcam site that was founded in the early days of the modern internet, 1996. The site has most of the typical features that are shared by top-tier cam sites, and a few notable distinguishing features discussed in the Content section, below.
At any given time, the site appears to have between 100 and 300 male models and couples on cam. While the quantity of models is not as high as some other sites, it is offset by the quality – these guys are shredded, cut (in more ways than one), and jacked…and jacking it. In terms of traffic, this site is near the top of the list, sitting at 11th globally in the adult category according to Amazon's Alexa service.
The site is similar to, and owned by the same parent company (VS Media) as, LiveGuys4Free which we reviewed here. The overall look, interface, and many of the features are the same. The model database is also the same.
Content
Flirt4Free Gay includes free signup, paid one-on-one shows, and a variety of other awesome features:
Interactive male-focused sex toys, some of which are tip controlled, others device controlled, and other offer 2-way feedback experiences for both the model and user
Cam-to-cam chats allowing 2-way video communication
A large number of different categories and tags to help you find the right model
A "flirt rewards" system that offers rewards points, new features, and discounts
VOD system
Flirt Phone, allowing private audio chats with models
Fan clubs and model communication
Deals and promos for specific models and shows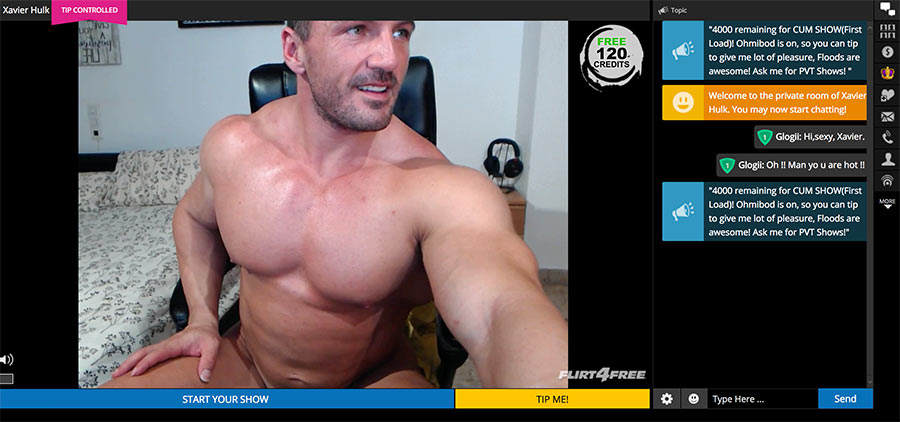 Categories
Most of the usual solo male/gay couple/bi male categories can be found here, with the most popular (in terms of number of models) being HD Cams, Multi-User, College Guys, Latino, European Guys, Muscle, Bi-Curious, Twink, and Interactive. In total there are about 60 different categories, as well as browse and search features. The search feature lets you specify factors like ethnicity, age, cock length, body type, piercings/tattoos, top/bottom/switch, sexual orientation, and much more.
Star Power
This site doesn't really have any well-known male adult performers active. Very occasionally they may have special shows with featured pornstars, but they do not seem to be very frequent. However, the models here can hardly be called amateurs, either, as most look like they just stepped out of a photo shoot or underwear ad.
Network
Flirt4Free Gay is part of the VS Media network of cam sites, many of which share the same interface and features. Login information and credit balance for one site also works on all the other sites, though there is no central directory or listing of sites available.
Other sites in the VS Media network that we have reviewed include here.
Subscription
FREE GAY CONTENT!
As with many other cam sites, Flirt4Free is free to join and requires only an e-mail address, username, and password. This provides access to free videos uploaded by other members, as well as all the free gay chats and related features. Free accounts usually only get you streams where guys are teasing, trying to work their bodies so you hop into a private session. There are also explicit public shows as well, where guys perform for lots of customers and collect tips from the whole group. Just remember that sending tips and starting private shows requires that you purchase credits.
Credits cost around $0.05 USD per credit, which is lower than many other sites. The cost of videos, private chats, interactive chats, etc. are variable, and at least in the case of chats, negotiable between the model and the customer. However, a standard rate range provided on the website for a private show is typically 40 to 60 credits per minute (about $2-3/minute), so it can add up fast. This is still significantly less costly than many other cam sites, where prices can push $10/minute in some cases.
There are a number of credit purchase offers, along with initial free credit offers. Additional "free" credits are available via upgrading a free membership to VIP. The VIP subscription offers two different packages, with different amounts of "free" credits included, though the core VIP membership is the same. Membership includes access to thousands of hours of existing video, 200 daily VODs, 3 free video purchases per month, and free access to all featured shows, discounts on video purchases, and more.
It's also worth noting that credit purchases can be made in a number of ways, including credit card, Bitcoin, traditional paper check via the mail, and through PayGarden, which allows the cashing in of unused gift cards.
We do the math so you don't have to! Below, find a comparison of the two different levels of VIP membership options, as well as current credit costs.
Period
Cost
Free Credits
Net Annual Cost
Annual Credits
1 month
$39.95
150/month
$479.40/year
1800
1 month
$49.95
300/month
$599.40/year
3600
Amount
Cost
Cost Per Credit
120 credits (one-time offer)
$0.00
$0.00
240 credits
$10.00
$0.04
415 credits
$25.00
$0.06
Our Advice: Don't be sucked in to VIP membership unless you plan to spend a lot of time and money on the site. The credit value for the VIP membership is more expensive than buying credits outright, and the included perks of VIP membership don't justify the cost. In terms of the different credit offers, the $10, 240 credit option is currently the most cost-effective, after exhausting the initial free 120 credit offer, of course.