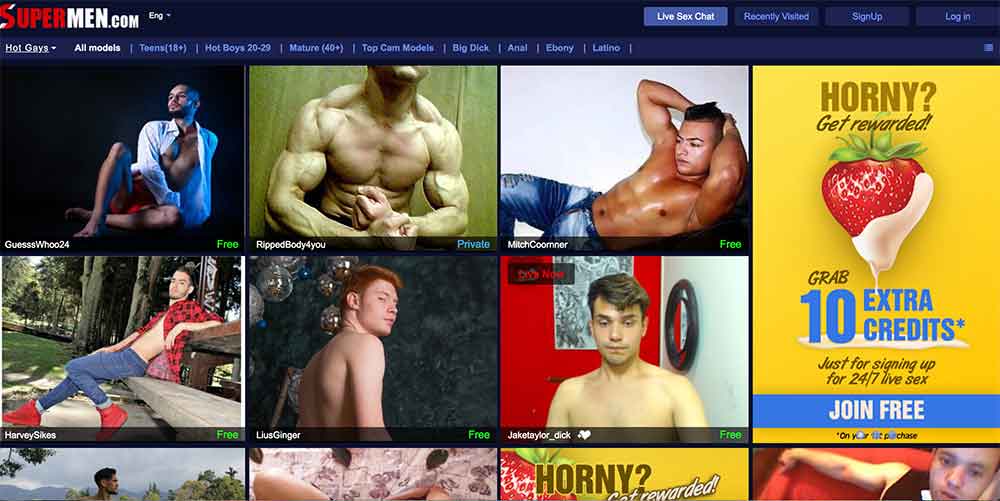 6
Content
9
Price
7
Features
Visit Supermen
Supermen.com can be a bit of a crap shoot. There are plenty of guys, but many of them are completely uninterested in maintaining a conversation, unless you have credits. That's not to say that all of them act like douchebags, but there are definitely some jaded dudes on this cam site.
Deal of the day!
10 Credits, roughly a $10 value. Card Validation, or first purchase
View Deal
Getting Started
The site is easy to sign up for. You don't have to give them any credit card information. Once you click on a model to chat with, a box will pop up with signup information. This site asked me for my email, but didn't actually verify my email address.
Immediately after signing up, you will be asked if you want to buy credits. Make sure you pull out your dick before you pull out your wallet, click 'maybe later' and check the boys out first.
You are never prompted to create a profile. Much like many of these boys, they don't give a shit what your favorite color is—they just want your money dude. However, if you choose to ignore that delusion, you can create a profile by clicking on your username located on the top right. You can upload an image of yourself, input your birthdate, location, marital status, and tell the boys a bit about you.
You can choose how you prefer the user interface to look, in order to improve your ability to navigate the site. If you are a techy, this is by far the best quality interface that I have seen on a cam site. Everything is in brilliant HD.
You can also sign up for their reward program, which has a pretty great happy hour special, as well as special member rates. Also, you can check out 'news', which is a schedule of when well-known porn stars will be playing with their enormous dicks online for your enjoyment. Tex Davidson is cumming for Halloween. Nom Nom.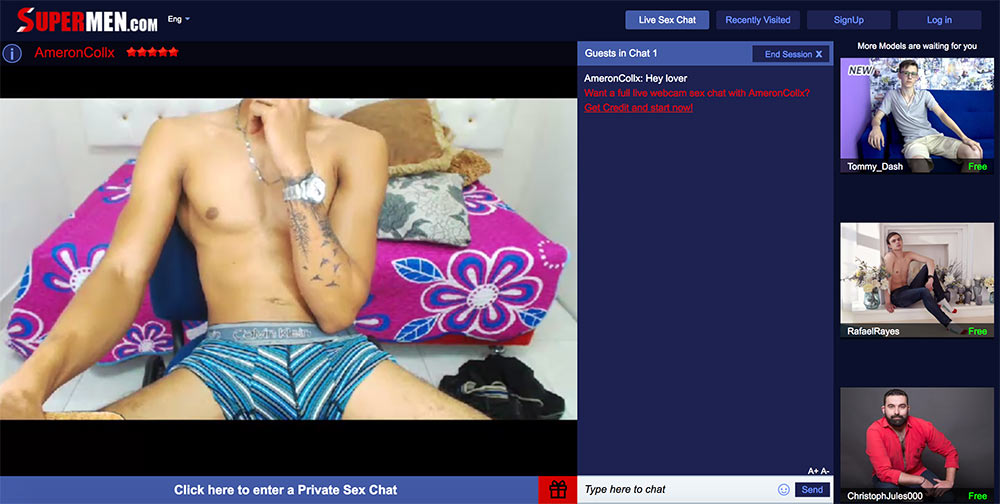 Using Supermen.com
The user interface is very well designed. All of the models' photos are HD quality. When models are free, or they actually want to chat with someone (instead playing video games on their fucking iPhones), their photo will change into a live view of them.
Look for the photos that have "free", written in neon green, located at the bottom right of the models' photos. Those guys are open for business. If you see the word "private" written in blue, then the boy is busy and your private will have to stay blue for a bit longer buddy. Yeah, that was an easy one…I know.
Once you pick the dick that you wanna lick (I'm on a roll here), then click on his photo and you will be transported into his living room. Seriously, they are almost always in the living room….? When you sign up, you are told by the female bot (there is no live customer support) that prices start at just $0.98/minute. However, every time I clicked on "Go to Private Chat"—I was prompted to input my credit card number before I was shown the per minute rate. Be careful. You may find out that your dream boat is way more expensive than you thought.
In the Spank Bank
The first thing that stood out to me were the categories. There are the normal cam categories such as "gay couples", "big dick", "white", "black", "latino" etc., but then there are two numerical age ranges and one category that says "mature". Talk about offensive. The dudes are 20-29, 30-39, or "mature". So if you like men with plenty of hair on their chests that no longer have student loans, click "mature".
Again, the HD quality is amazing. The developer used the best cameras and photographs that I've ever seen. However, the developer is also amazing with Photoshop. I'm not saying that these guys were ugly once you entered their private rooms, but they were definitely more…."realistic" in person.
At first, I thought that the guys seemed really bored and just refused to respond to me. Then, I realized that they can't respond to me. They can't message back unless you have credits. I thought that they were choosing not to message me back because I didn't have credits. However, one guy kept typing me messages, but they never appeared on my computer screen. He got irritated and started talking to me as I sent him messages.
The company that owns Supermen.com restricts the models' ability to communicate with you unless you have credits. It's one thing to get you hot and bothered, then dick tease you until you put your credit card info in; it's another one to be ignored unless you have credits in your account.
At one point, I thought that one of the models was finally responding to me. However, he wasn't. He was responding to another member that had credits. Basically, you aren't that important unless you have money on your account.
The guys are a blend of models and 'real' guys. The 'real' dudes looked very much like their photos, while the models were far less models….and more 'painted' once you entered their private rooms. There were dudes with more bronzer on than a 50-year-old cougar in Boca.
Although there were some really cute guys, the lack of interaction made it seem more like a frigid strip club, than a cam site. The guys didn't give you the time of day, well except one, unless you had credits on your account. One dude "Mach0Man4YOU" had a smoking hairy body and a huge bulge, but you can't even message him without credits.
reduce the amount of time that models are 'wasting' talking to dudes without money, but in the process they are also losing customers. The way that the site is set up, the guys seem frigid and unapproachable. That's a huge fucking turn off.