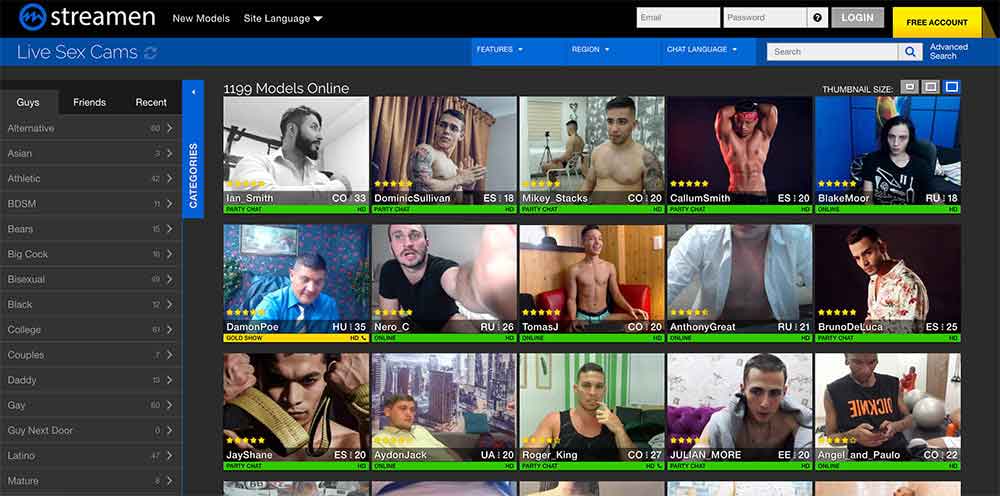 7
Content
8
Price
7
Features
Visit Streamen.com
Streamen.com is an interactive web cam site with a deceptively simple user-interface. Streamen.com is owned by Streamate.com, but Streamen.com is the all male version. Just like all other cam sites, you can sign up for a free account and peruse the hot guys. However, you do have to enter your credit card information before conversing with any models. That is pretty common with these sites, but they usually put a $1 authorization hold on your credit card. This site puts an immediate $2 hold.
Customer 'disservice'
There is an easy to locate customer support icon on the site. You are immediately sent to an agent that is meant to answer any of your concerns. I inquired about the $2 charge, but was cut off by the agent "Shane" (pronounced "douche canoe") that told me it "WASN'T a charge. It is clearly written in the first paragraph of the terms of service and user agreement that it is an authorization and will fall off in 3-5 days.". Douche c…Shane then exited the chat. Please review the terms of service and user agreement before speaking with customer service. You know? That document that is 400 pages longer than your mortgage contract.
Using Streamen.com | Streamate.com Gay
Once you enter your information, you are sent directly into the same 'simple' user interface. There is a plethora of categories for anyone's taste in men. Only men. If you are looking for trans, women, or couples, you'll have to check out another site.
The site can be very confusing, especially when half of the blood from your brain is now in your gym shorts, and you are typing with one hand. The filtering feature on streamen.com is not very helpful. There are three categories in which to filter the models: Features, Region, and Language. "Features" has nothing to do with physical features. "Features" is broken down into: HD (best quality), High Quality, Audio, Phone, Party Chat, and Gold Show. I had to ask four models about party chat and was told that there is no party chat. Confused about the gold show, I thought that I'd ask customer support. Guess who responded? Yup, douche cadet Shane. Streamen.com is apparently short-handed. I received a scripted response that contradicted what some of the models told me. There isn't actually a party chat or a gold show. You can stay in the free space and not pay anything; tip the boys in the free space—and get a tease; or you can go into a private chat with your lover boy for a very high per minute rate.
The site allows you to either pre-pay your account through your card, or you can set a daily spending limit. The daily spending limit feature is meant to keep you in the spank bank, as opposed to having to stop and use your bank card to refill a pre-paid account. The daily spending limit is set up in $25 increments. If you want your daily spending limit increased above $50, then you have to contact customer support. Tell Shane that we said hi.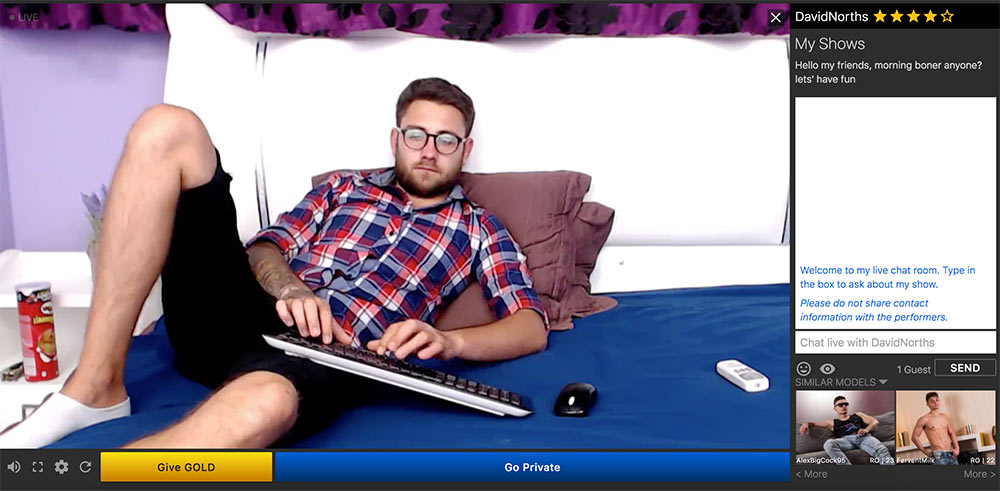 Back to the boys
The categories include: Athletic, Big Cock (However, cock size was pretty much whatever adjective the guys came up with e.g. big, very big, much big, super big. I'm more of a numbers person myself), Black, Asian, "Straight" etc. Beside each category was the number of guys online in that category. The total number of guys online, in all categories, is posted above all of the models' photographs. However, anyone with decent math skills can see that those numbers are deceptive. Your selection's size is much smaller than you had hoped (kind of like that one bad date). Once you remove your hand from your joystick and grab a calculator, you'll see that about 1/3 of the total number of guys that are "online" -- are actually online.
You'll also notice after a few strokes that a ton of those dudes are in several categories. I'm not sure that one guy can be BDSM, Black, "Straight", Athletic, in college, and be "alternative". No, the alternative category is not filled with skinny long-haired rocker boys dancing to Nirvana and hating life. They are just 'alternative'…...to what? I have no idea.
There are definitely some hot guys on this site, but don't expect them to all be "Sean Cody" chiseled and perfectly-tanned co-eds. There are a few bros on there, but remember…. this is amateur. That can be a great thing. This site has gym bunnies, big leather daddies, otters …...and even barely legal Asian boys sitting in bed with their teddy bears just waiting for you to tuck them in. These guys have every body type that you can think of. You may not get a ton of frat boys, but you can definitely find a cute Tom, DICK, or the other guy. Plus, who doesn't want to jerk off with the sexy cable guy, right? Oh and if you are a guy that loves foreskin, you are in for a treat. The majority of these guys are Eastern European, Latin, or Asian. If you're not into foreskin, then you'll have to search a bit more.
When you do find a hot guy that you want to play ball with, you are able to interact with him via a messenger feature on the right of the screen. You can hear him, although he won't talk—unless you count grunting after flexing his muscles—or the uber-gay house music playing in his room. Several of the models also seemed to be conversing with other people in the room. There is a 5 second time delay between sending and receiving messages. I found myself waiting for his fingers to leave the keyboard, and mine to land in my lap, but that took longer than expected.
Dollars and Sense
There are two buttons under the chat window that say "Give Gold" and "Private Chat". Gold, as it turns out, is a way to tip the boys without having to enter a private chat. Once you click on private chat, you are given the rate for the model. The rate is set by the model, but ranges from $1.99 to $2.99 per minute. When you click on "Give Gold" you are shown a message that says, "Show em' how you feel!". At that point, I was feeling kinda..floppy and a bit lost.
This site is expensive. To chat with a model in a private room costs a one-time activation fee of $1.99- 2.99, plus $1.99-2.99/minute, depending on the model's chosen rate. My Romanian love boy told me that it takes him about 20-30 minutes to jerk off and cum. That's a whopping $92.69 for one Romanian milk-fest. Granted-- he was hot and he could actually message me in coherent English—unlike most of the models on this site. Call me old-fashioned, but if I'm giving you $90, I want to see what "big dick" means first.
Watch out for the scripted cliché responses. My Romanian love boy told me that he couldn't stand up because he was naked— "no peeking". 30 seconds later, he pulled on the front of his pants—which became visible at that point. No freebies from Romania guys! However, you can watch him text on his iPhone and drink Coke for free. You can also send "gold "for flexing his biceps, and a little nipple play.
Some of the models will show you a bit more in the free session. Some guys had on see-through underwear, so you could gauge what they meant by "big cock" or "hot ass". Some were fully dressed. Some, like my Romanian, were just shirtless with the cam pointed at their chest. Many of their profile pics were professionally taken, and for some, the reality wasn't as hot as the photo-shopped version.