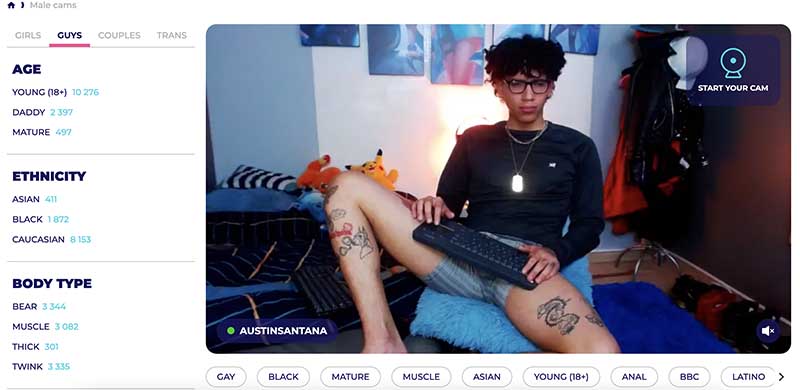 8
Content
9
Price
7
Features
Visit Jerkmate
Jerkmate Review
There are dozens of cam sites on the internet, some bad, some good, and some that are the cream of the crop. Jerkmate is one of those that belong to the top tier of camming sites. Offering many useful features and thousands of models, it dominates the camming business alongside other giants like Camsoda and Chaturbate.
You already know it's big. You want to know why you should go there over anywhere else. Well, give me five minutes, and then you will be on your way to jerk off to the sexiest models on the internet. Ready? Let's go!
A Quick Look at Jerkmate
Jerkmate comes with several features that help to make your experience enjoyable and get you in front of the girls you came to see.
Jerkmate's Premium Currency is sold for $1 per piece;
Offers a Cam-2-Cam option;
You can purchase photos and videos from each model's page;
Don't speak English? Not a problem! Jerkmate is available in many languages;
It has a cute robot mascot;
Search filters are perfect for finding the right girl.
All of these features come with a free account, so you do not have to worry about putting in your credit details when signing up. Pretty great, right? Only time you have to enter your credit card is if you purchase premium currency or photos or videos from models.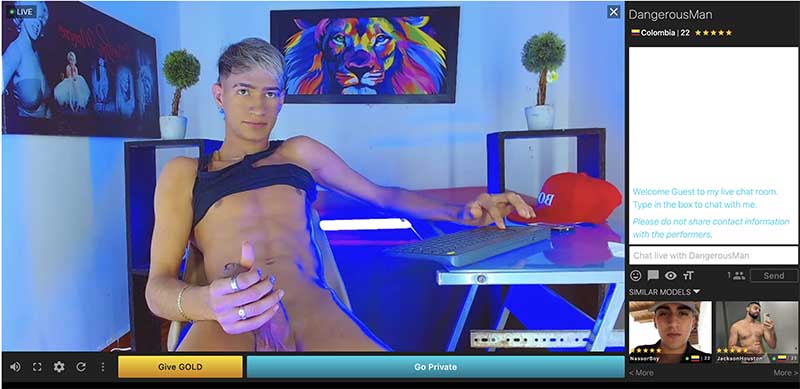 Pros of Using Jerkmate
TThere are many pros to using Jerkmate, though that is to be expected. After being in the business for years, they should know how to run a user-friendly website.
Accounts are free and quick to create;
Paypal is accepted;
Chat with models for free;
Excellent Customer support that responds quickly;
Thousands of models in every category.
While Jerkmate has a ton of pros that make it enjoyable to use, the best one is the huge number of models available to watch. Sure, it is nice to be able to create a free account or have great customer service, but this is a camming site. All that matters is the girls and the categories available to jerk off to.
Main Categories of Girls Available on Jerkmate
While not an exhaustive list, here are some of the main categories of models you can find on Jerkmate. No matter your taste, there will be a model for you.
Amateur
Anal
Asian
BBW
BDSM
Curvy
Dominant
Ebony
Goth
Hairy
Interracial
Milf
Public
Roleplay
Teen (18+)
Cons of Using Jerkmate
While Jerkmate may have many pros, it is not without its cons, but every site has cons. It is up to you whether or not they are major enough to keep you from enjoying the girls.
Girls are often chatting with multiple guys, so it can be easy for you to get lost in the masses;
The UI is fairly complex, meaning there is a learning curve;
Private shows are common, so there will be times your favorite girls are not available to watch;
1-on-1 private shows will cost you money, and they tend to be very expensive;
Gold is required to activate vibrators, spin wheels, and otherwise control what a girl does;
Cam quality can occasionally be poor.
Keep An Eye On The Time During Cam-2-Cam Shows
Cam-2-Cam shows can be a great way to connect directly with your favorite cam stars, but be careful when starting them. On average, they can be between $1 - $3 per MINUTE, which can add up quickly. So, keep an eye on the time when you are doing cam-2-cam shows and maybe wait for post-nut clarity before forking over $20 - $60 bucks.
Top Models Found on Jerkmate
So, you know everything you need to know about Jerkmate now, right? Wrong. While you know, there are thousands of models, and hundreds of pornstars, maybe you want a quick list of some of the top pornstars. Here are five of my top Jerkmate pornstars that touch many different categories and fetishes so that you can enjoy at least one of them!
Skylar Vox
"Skylar Vox is a young, blonde, curvy girl who loves getting down and dirty for her viewers. One of the top cam models and porn stars, she holds nothing back when showing off her body for her viewers.
Attributes:
Shaved pussy
Large tits (34DD)
Long blonde hair
Only 5'2"
Kinks:
Facial
Natural
Young (18+)
Creampie
Piercings
Lesbian Sex
Blowjobs
Blow-bang
Riley Reid
If you have spent anytime on the internet browsing the porn sites, you know of Riley Reid. At a still young age of 31, she has been in over 860 films, and cams on a regular basis. Her name is known far and wide, and with her slim body and perfect breasts, it is no wonder.
Attributes:
Hairy pussy
Small tits
Slim body
Long brown hair
Still a short 5'4"
Kinks:
DP
Anal
Creampies
Squirt
Hardcore Porn
Gangbang
Alexxxis Allure
Now maybe you prefer your girls to be a bit chubbier because they have more to jiggle and grab on camera. If that is the case, then Alexxxis Allure is perfect for you, as one of the top BBW models on Jerkmate.
Attributes:
Huge Tits! (52DDD)
BBW
Shaved pussy
Only 5'3"
Kinks:
BBW
Piercings
Tattoos
Lesbian
Teasing
Inverse Gangbang
Jasmine Grey
Do you have exotic tastes when looking for a cam model to get off to? Do white girls bore you after a while, and you just want something new in your life? Enter Jasmine Grey, a top Asian porn star who loves to show off her slim body in hundreds of videos and live cam shows.
Attributes:
Trimmed hairy pussy
Small breasts
Tiny at 4'9"
Skinny body
Kinks:
Roleplay
Teen (18+)
Piercings
Cam 2 Cam
Asian
Hardcore
Anal
Threesome
Step-Sister
Anne Amari
Final on our list, but far from least, Anne Amari is one of the sexiest porn models on the internet. Her smooth and skinny ebony body is irresistible and you will find yourself joining her shows on the regular. And if her shows aren't enough, you can find dozens of her videos on top porn sites like Pornhub.
Attributes:
Small Tits
5'5"
Shaved Pussy
Slim body
Kinks:
Teen (18+)
Sex-toy
Facial
BDSM
Dirty
Ebony
Hardcore
Anal
Interracial