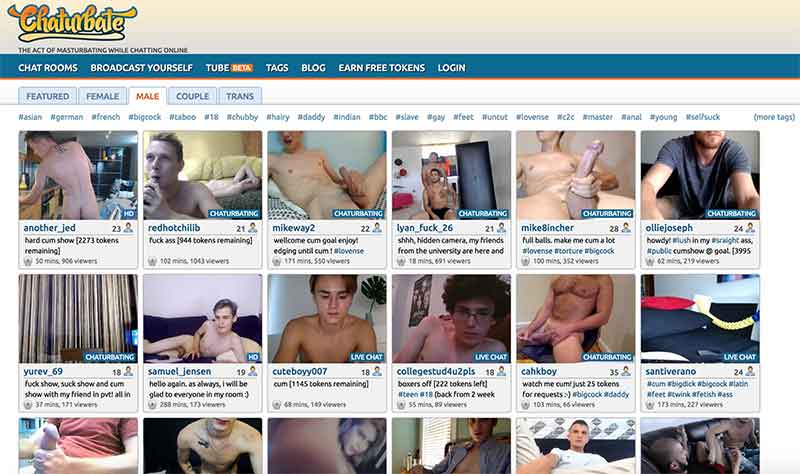 8
Content
10
Price
7
Features
Visit Chaturbate Gay
Ladies and gentleman, I believe that I have found the Mecca of cock. Chaturbate.com is by far the most affordable way to rub one or two or three out, without breaking the bank. This site doesn't have the bells and whistles that other cam sites do, but it doesn't need them. There is something for everyone. The categories are simple: Female, Male, Couples, Trans, and Spy Shows. And if you happen to spend too much money, just click 'broadcast yourself' and earn the tokens back. Your fantasy of being a porn star will come true. I'm never jerking off for free again.
Getting Started
The interface is really simple. Your first step is to create an account by clicking the registration/login button on the top right. Once you create your username and password, a verification email will be sent to you. You will not need your credit card unless you buy tokens. Trust me, bring your card because you will want to buy them.
You are then sent back to the original user interface where you select from the basic categories mentioned above. You will be given the opportunity to buy tokens right away, or at any time that you are cruising around. In comparison to other cam sites, this site gives you the biggest bust for your buck.
Using Chaturbate.com
The interface is lit up with small screens of amateurs from around the world. I don't mean the 'amateur' that you usually see faking that he's not a cam whore. The one that is dressed like a preppy little angel. The one that pretends he likes pussy. Not here. This is totally amateur. These dudes have been wanting to show the world what their mama gave them since they started growing pubes.
If you are one of the many exhibitionists on this site and happen to make it rain a little too hard, you can make money by broadcasting yourself. Turn on your cam by clicking the words 'BROADCAST YOURSELF' located at the top of the page. Make certain that you create your profile first. The profile button is located at the top on the far right. Within the profile, you are given the ability to dictate who can see you, if you'll use audio, if you'll use toys, or if you'll just sit there and whack it old school You can also upgrade your membership, as well as add tokens to your account from your profile.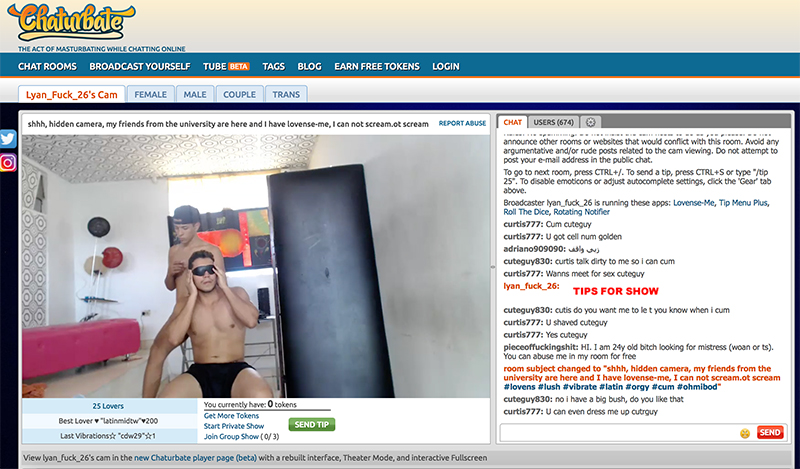 In the Spank Bank
There are hashtags between the models and the categories. At first, I thought that they were there as decorations that reminded me of how depraved I am. #slave #feet #bigcock #cum etc. However, I was wrong. All of the hashtags that you see correspond to the desires of our amateur crew. Just click one and a window will pop up with all the boys that fit your depraved sex habits.
There are administrators that help the models by cheering the crowd on. These guys are already naked, about to cum, cumming, or straight up fucking each other on screen. Just bust up into a room and watch what's going on. Sometimes the models will throw up basic "tip menus", other will have extremely detailed "tip menus" with acts such as, "lick my own cock, slap my cock against the counter, SKIP STRAIGHT TO THE CUM EXPLOSION". Each of these acts costs tokens, BUT there are a couple hundred people in the room. One dude wanted 500 tokens to bust ($50). A bunch of us tipped 1 token=$0.10 and sat back and watched his huge dick explode all over his face and the camera. He got what he wanted, and we definitely got what we wanted.
I saw every type of dude that you could imagine. There were straight best friends that threw up a tip menu, thinking that no one would pay 750 tokens=$75 to watch the skinny one lick his straight buddy's dick. It happened pretty quickly. You know it's amateur when there are accidental cum shots. That was pretty common.
The boys are also really into toys. Many of them have menus that indicate how long they'll put their butt plug on vibrate, given a certain amount of tokens. We had a blond hunk shooting his cum in less than 5 minutes. I spent $0.80.
Customer Support
There is no live chat option, but customer support does answer email questions quickly. They were really nice and told me about the 200 free token deal. Don't be afraid to email them. They are good people. They truly just want you to have fun.
Dollars and Sense
There are private sessions and videos that you can buy from the models, but don't waste your money. Watch the models. They'll cum at some point without you blowing the bank.
For $10.99 you get 100 tokens. If you sign up for a spending limit increase, which you never have to use, you get another 200 tokens. Think about it. You can throw a token here and there, skip in and out of rooms, and watch a handful of guys catch a fistful of cum.
I was on there for at least an hour and a half for $10. You select the number of tokens that you tip with, so be smart and throw one here and one there. If, and when, others start to follow----the milk fest begins. It really seems like a community. The men are cheering on other men that tip well, which makes you throw a few bucks. Then everyone blows together. It's pretty fucking hot.
If you are totally broke and don't want to flip your cam on, just sit and watch. You may be waiting a long time, but you'll definitely get some free cum at some point. Another strategy is to look right below the models' photo. There is a timer that tells you how long he has been online. I head to the dudes that have been edging for 2 hours. They have to cum at some point, right? They did. Every single time.
The Boys
To be honest, there are men from everywhere on here. However, 80% of them are American men. Cum get your apple pie boys. These dudes have BIG dicks that they love to play with for you. Some of these guys just flip the cam on before their nightly jerk off. They aren't trying to be cam stars, but they have realized that they can earn a couple of bucks for doing something that they intended on doing anyways.
Another really cool aspect of this site is that the models maintain an Amazon.com wish list. The gifts aren't always expensive either. It's sort of like shopping for wedding presents, once you get the registry list you haul ass to the cheapest thing that you can find. I mean, you don't like that bitch anyways.
All in all, the site is fantastic. It doesn't blow the bank while you blow your load. The community vibe is really cool. It's like being at a virtual titty bar, but with dicks…. that eventually shoot everywhere. After finding this site, I don't think I'll be spending any of my hard-earned money in those overpriced cam sites where you get a nipple shot for $10. A lot of these dudes are amateur exhibitionists and want people to watch them. You can make this a very long edging session for $10 easily.