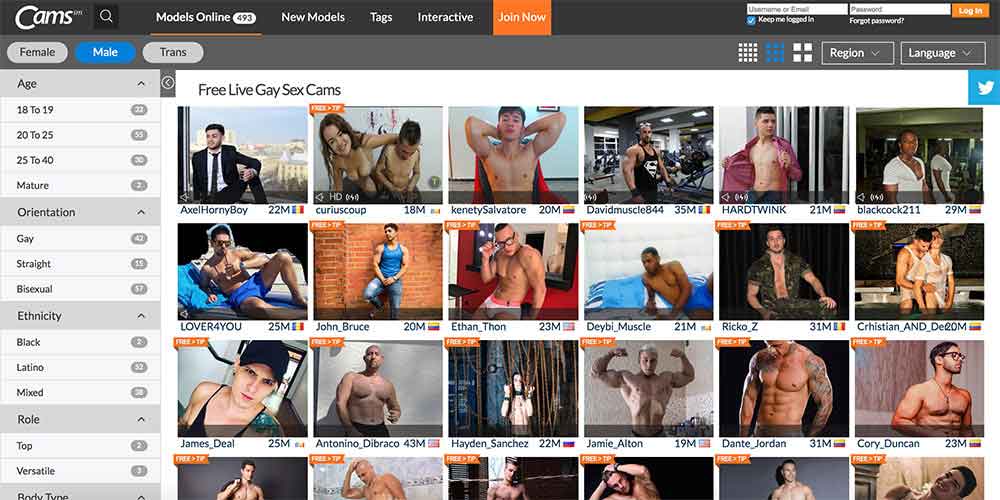 3
Content
5
Price
4
Features
Visit Cams.com
Although the initial interface that you encounter is covered in pics of naked chicks, trust me there are definitely lots of dicks on Cams.com. The site also has some cool trans porn, and there are also couples—I think I just heard a collective howl from the slutty soccer moms in the back. Basically, if you don't find something on this site that makes your dick sweat, you might want to pop by the doc for a few little blue pills. This site has TONS of dick dripping content boys!
Getting Started
Sign up with your email and create a password. Cams.com emails you to verify that your email address is legit. Check your spam folder! One of the coolest things about this site is the fact that you don't need to put your credit card information in at all. No, really. You don't have to trust some cyber pimp with your credit card number. You only use your card when you want to buy tokens to tip or to go private with your lover boy. Customer support agents aren't dicks either. That's a good thing if you are a frequent flier. Flirt with customer support and you might get a deal.
Deal of the day!
100 Free Tokens on sign up.
View Deal
Using Cams.com
Cams.com is really easy to navigate. On the top left you chose female, male, or trans. Once inside your spank space, there are a ton of dudes to choose from. We're talking frat-tastic bros, Latin, black, gaysian, short, tall, smooth, hairy bears, daddy…. issues etc. It gets better. If you buy the cheapest package--$12--they give you 100 additional free tokens—valued at $12. So, you'll get $24 worth of cock for $12. Tipping these naughty boys starts at only 20 tokens. So, even if you're broke as hell and still living with mom-- you can still get a couple of pulls in while she's doing your laundry. If you're a baller, spend $26 and you'll get 250 tokens plus your 100 freebies. You can only get the 100 free tokens with your first purchase, so make sure that you're at least half mast before you cum-mit. If you hang around for a bit in the free space, you'll catch a bit of action now and then too.
You can filter by age, sexual orientation, ethnicity, body type, dick size, kink etc. Although there are a ton of filter options, you can only use one at a time. That makes it a little bit more difficult to find a red head, straight, otter, with an 8" dick. But the search is worth it. I have never seen this many different categories of male body types on a cam site. They have twinks, bears, otters, cubs, wolfs, pups, gym bunnies and on and on. I felt like I was in a gay zoo! I'm a porn junkie and this site taught me a new word— "twunk". It's a non-anorexic twink. Twinks that eat. Amazing.
The Boys
These dudes are also hung. The categories of dick sizes are average, above average, and huge. Above average is 7-9". I've always considered a 9" dick to be a weapon of ass destruction—but apparently you aren't that special on Cams.com unless you can tie your dick in a knot. So for you boys that can sit and spin on a road cone—have at it. It's a pig bottom's dreamland.
Unlike many cam sites, you won't find Russian boys that look like they just escaped the gulag, or Thai boys in the broke-down palace. These guys are from all over the world—and most of them are pretty hot. The one's that aren't hot—are definitely your prison rape fantasy. You can slum it with some big-dicked redneck trailer trash too. There's nothing like a mullet and a pack of Marlboro reds—woof!
Under each of the guys' photos is the flag of their home country—otherwise known as the foreskin finder. If you're looking for a dick in a turtleneck, just head east until you recognize a flag. It's kind of like cock geography. Despite a tiny bit of air-brushing, these guys look like their profile pics. They are already in minimal clothes when you message them, so there's isn't an hour wait to see a fucking nipple. I scoped out a ton of the guys, and didn't find any of them texting, napping, picking their teeth, tweaking out on meth…They had smiles on their faces, cracked jokes, bounced their big nuts around. I found myself wanting to spend money because the guys didn't seem like the typical thoroughbred hustler. Although watch out for the "straight" boys. They charge more and don't give much away for free. Don't fall for the fantasy. However, you'll definitely find a dude that will leave a smile on your face and a mess on your keyboard…or computer screen if you're that wound up papí.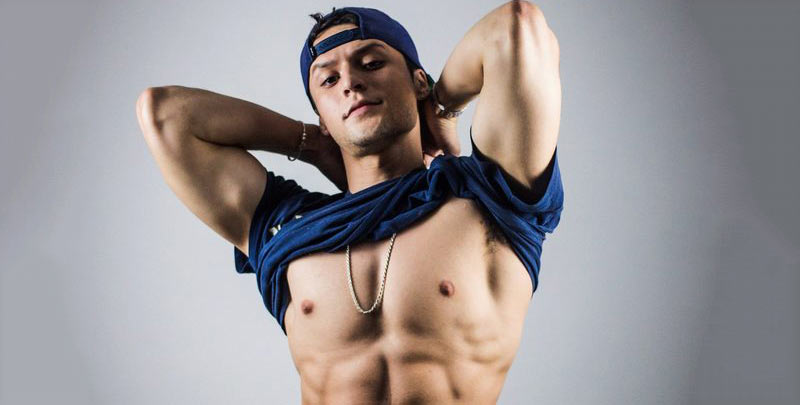 Service Quality
The cam quality is great. Almost every model was in full HD, no voice delays or streaming issues. I did run into one Eastern-bloc twinkie that had a pretty third world internet connection, but in general the quality was pretty good. Some of the guys had issues with English, but you're not there to meet a poet. You're there to stroke your dick and moan like a lion—or purr like a kitten—bark like a dog etc…
What Makes Cams.com Unique?
Cams.com prides itself on being interactive. It's so interactive that you can actually pair your Bluetooth ready toys to their system and let one of those dudes cyber fuck the hell out of you. No rubbers. No regret. However, Cams.com has included a new texting service. Right now, only the chicks on the site can receive texts, but customer service says that they are expanding it to dudes too. Now you can bust all over the computer screen and text your boo-thing in the morning. Top boys—grab your Bluetooth ready fleshlight and get sucked off, or fuck whoever you want. YOU can also control the model's toys. This site has truly taken interactive to a whole new level.
Dollars and Sense
We all know that all of this comes at a price. The more attention that you get from your boy toy, or daddy bear, the more it's going to cost you. This is probably the most expensive cam site that I've ever been to. Models set their own rates for everything, so check the private rates before you even start chatting. On the low end, I saw models doing private chats for $6/minute. The "straight" dudes are more expensive. One guy was $10.80/minute. DON'T FREAK OUT—just yet. You just have to be smart about it. For $12, you usually get 100 tokens. Right now, you'll get 200 tokens (to be honest, they probably have these sales all the time). So the price per token drops from 0.12 cents to 0.06 cents. Now the $6/minute dude is shaking his ass for $3/minute. The straight boy will drop trou for $5.40/minute. For $99 you get 1,000 tokens plus 100 free tokens. However, do the math. 1100 tokens=0.09 cents per token. Yes, sir. That's more than the 6 cents per token deal for $12. Why? Because you only get to do that one time. Unless, you are smart and keep using a different credit card, username, and password :)
You can hustle a little bit too. When there are other dudes in the group chat, and the model gets a tip from the crowd, everybody gets to watch. Some models flop their cocks around in their underwear. Other dudes bend over and spread their cheeks. The "straight" dudes are usually more expensive and often less friendly. American boys are more expensive. If you're broke, head south of the border for a burrito. Apple pie will cost you buddy.
If you are really into cam sex, then you should definitely become a premiere member. For $14/month you can email your favorite model whenever you want to. You get 5 free recorded sessions of any model(s) that you want; and you also get 10% off of all live private chats. Customer support insists that as a premiere member, the models are advised to spend more time flirting with you. Cams.com is all about jerking your dick while clipping coupons. You can find ways to make it affordable. It's totally worth it, but don't go in there hard and ready to roll without your calculator. If you do, you may end up paying $300 to see a straight dude's dick—that you could have seen at the gym for free.