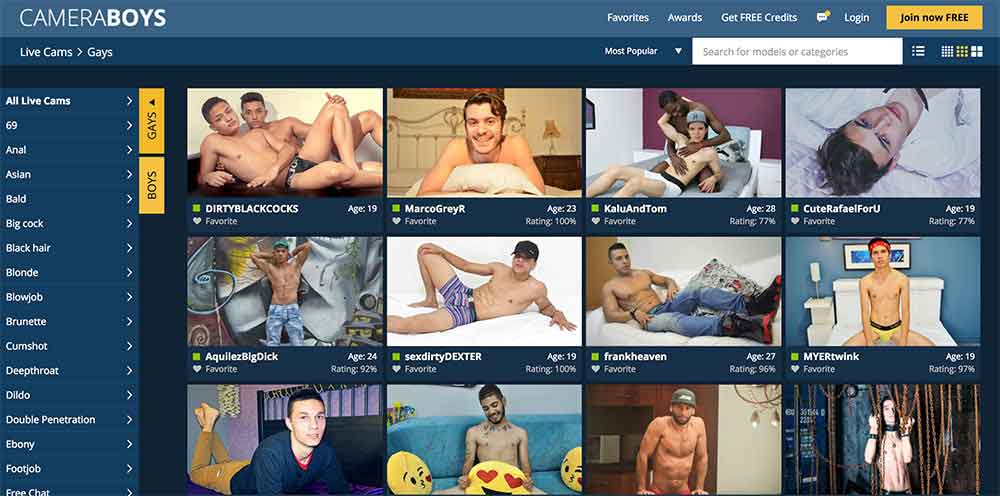 3
Content
5
Price
4
Features
Visit Cameraboys
The user interface of Camera boys is kind of like a suburban housewife. It looks pretty, but doesn't actually do anything of substance. Cameraboys.com is an interesting experience. There are a ton of filters on the left-hand side of your screen, but some of these categories are actual sex acts. I found myself thinking, how do you give someone a cyber blowjob through a cam site with no Bluetooth device? Maybe—that means that there is a couple in there? Not really…. Every time that I clicked on a sex act, I received this message: "No models in this category with these selections". Did these boys leave their kneepads at home? Oh wait…. they don't exist.
Getting Started
Joining Camera Boys is really simple. You pick a username, password, and enter your email address. This site doesn't make you verify your email address like most sites. No need to have to take your hand off your dick to open a new link. Most importantly, you don't have to pony up your credit card number to become a member. I hate giving my credit card number to a random website. I always imagine a 50-year old, 300 pound Nigerian "prince" on the receiving end of that transaction. However, the stranger danger starts to kick in if you are observant i.e. not wasted.
The site gives you 9.99 "free credits", but if you want those free credits you have to give them your credit card number. Oh...and you only get 9.99 worth of free credits if you choose the $169.99 package. I bet you are thinking that I forgot the dollar sign in front of 9.99, right? Nope. In bright yellow, the numbers read 157.99, plus 9.99 bonus. At the bottom of the payment box, in small numbers, it reads "$169.99". You are getting 157.99 plus 9.99 in credits, not dollars. Yup…I'm thinking Nigerian "prince" at this point. The basic bitch 17.99 package doesn't give you any free credits, and you are actually going to pay $22.99. Strangely enough, the page that you are brought to when you click on the "get free credits" link is identical to another cam site. Except, Camera Boys doesn't give you as many free credits as the other site does. I put my dick away at that point, I'd suggest that you do the same boys. This site screams "identity theft". It's shady as fuck. I decided that I wouldn't risk my shitty credit score by purchasing a package.
Using Camera Boys
If you decide to go ahead and give the Nigerian "prince" your credit card number (I'm assuming that you are wasted or that you ride the short bus), then you are redirected back to the same user interface described above. How do I know that? Because I definitely used my 90-year old grandmother's credit card—just so that I could write this for you. I'm totally dedicated to my job. I mean, let's be fair. She'll never know, right? I can totally convince her that she was looking at gay porn on the internet. Plus, the Nigerian "prince" probably needs her social security check more than she does.
Camera Boys is rather simple to use, given that only 1/5 of the filters produce any results. If you fit the description above, you'll have no issues finding your way around. You can click on really interesting physical characteristics such as, "Black hair", and you'll get results. After a 10-second delay, a bunch of dudes with black hair pop up. "Black hair" also returns profiles of black men. I'd say that there were about 8 black guys. However, the "Ebony" category returns two profile pics of black men. I'm guessing that those two dudes are named "Ebony" …? It gets shadier, just wait.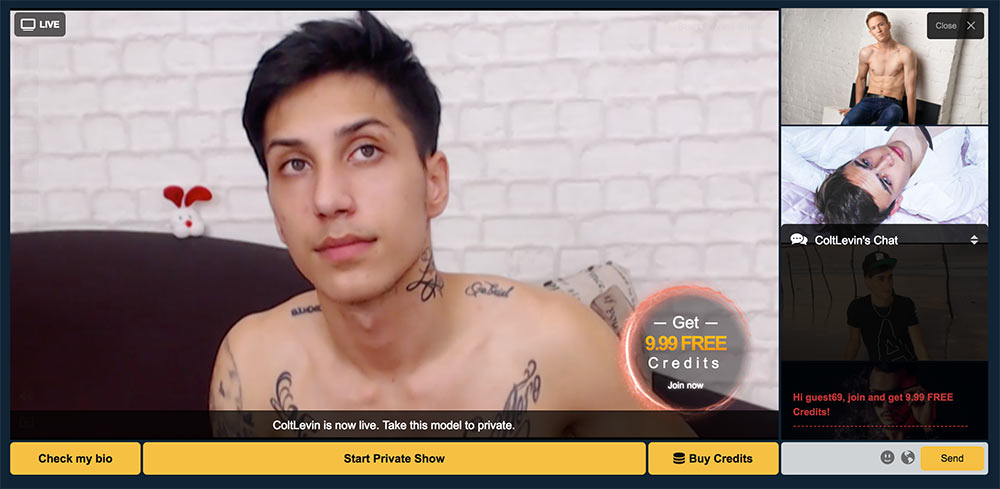 When I entered a model's room, the dude jumped on me like a fat kid at a buffet. Within two seconds, he was chatting me up hard core, but he kept repeating himself every 45 seconds or so. It was really strange. The video was constantly buffering, and the user interface was identical to another cam site. At this point, if you are still thinking about using this site, you are a dumb ass. Just saying.
The site was so fucking slow that I couldn't even maintain a single conversation with a model. Furthermore, 75% of my clicks resulted in this message: "I'm in a private chat. You can peek for 1 credit.". 1 credit?? Please read as, "I'll steal your grandmother's social security check for 5 cents.". Then, I noticed a couple in one profile pic. They were dressed in leather with handcuffs, whips, and ball gags. I figured, why not? Maybe I can get a free boner from a couple of leather daddies. When I clicked on their profile, there was another 10-second delay. Finally, two Mexican twinks popped up twerking to salsa music. No leather daddies here boys. However, you can be charitable and feed poor border town boys for $169.99.
The "About Me" section in each model's profile was a really cool way to see if you could read broken English, as well as understand broken English. This was my favorite description, "I waithing guys make a horny show togheter….kiss.". StrongBigCock describes himself as sensitive and delicate, but loves to get dominated and fisted too. Of course, I'm translating that for you because he doesn't speak or write very well in English. He was actually cute from the neck up. However, the strangest thing started to happen during my 10-second delays. A flash of about 20 pre-recorded clips of him in the same outfit popped up. I was messaging him and kept getting similar messages, "let's go pvt chat baby". When I asked him to show me his dick, he just flexed his muscles. Then, I started to message him shit like, "Hey fucker, slam your dick in the door." He just flexed his muscles. Why? Because the motherfucker wasn't real. I think that Camera Boys stole profile pics and short videos of models from other sites, and then passed them off as their own. I wasn't interacting with any real dudes. The entire thing is a scam to get your credit card number. DO NOT GO TO THIS SITE AT ALL. Guys—this site is a real scam. If you do, you will be left with your dick in your hand, while the Nigerian "prince" takes all your money. Stay away. My poor grandmother.