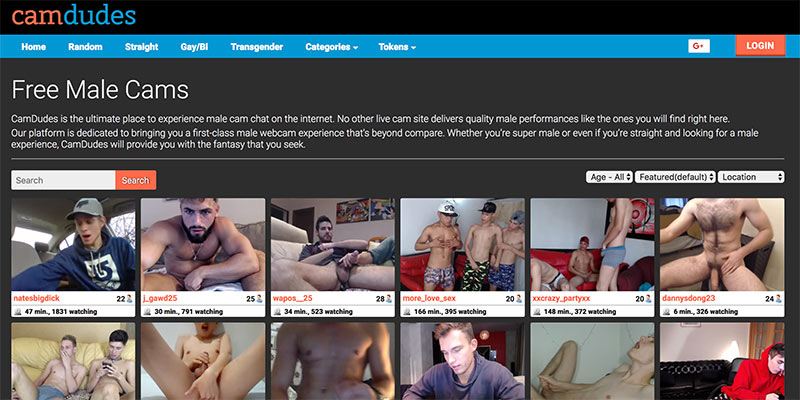 8
Content
10
Price
6
Features
Visit Cam Dudes
The Bottom's Line
This site is awesome. It is almost identical to Chaturbate.com. The only difference is in the colors and fonts of the user interface. Although, Chaturbate.com has a new feature that CamDudes.com doesn't have. You can go full-screen while still interacting via the chat window. Other than that, this site is fucking cool.
Introduction
CamDudes.com caused me a bit of déjà vu. The initial interface reminded me of Chaturbate.com, but the images of the guys were much larger. Upon closer inspection, I found that CamDudes.com is VERY similar—the interface is pretty much identical—to Chaturbate.com. My Chaturbate.com tokens even worked on Camdudes.com.
Getting Started
If you have a Chaturbate.com account, then there is no need to sign up for another account through CamDudes.com. Your token balance from your Chaturbate.com account will even appear. The dudes that I followed from Chaturbate.com also were still under my "favorites" list. Basically, it's Chaturbate.com with darker background colors and bigger photos.
You don't even need to actually sign up for the site unless you want to tip, chat in the chat room, or chat privately with your new boo. You can browse through cams and watch for free. However, I'd recommend signing up because it's not intrusive like other sites, and you may want to spend a few bucks tipping or chat privately with a dude. Plus, there are some funny dudes in the chat rooms. PS There are also chicks in the chat rooms too. These dudes will jerk off for anyone!
You don't have to input your credit card information to sign up. That's always a good thing. There are no "$2 holds" that fall off…or never fall off. That's a good thing, especially if you're a broke college student praying that your $2 dick hold is gone so that you can buy coffee.
You are asked if you'd like to create a profile. You can make it as basic as you'd like. Just verify your birthdate the first time. After that, you can hop into a time machine and make yourself a twink again by changing your age to 18. Don't worry about your webcam. It won't turn on until you tell it to do so, and you don't ever have to turn it on. Most dudes don't. Therefore, you won't get caught in your old dude flannel pjs telling daddy how much of a bad boy you are. That'd be fucking embarrassing.
There is also a member program that costs $19.99/month. If you sign up, you'll get 200 free tokens the first time. The only benefits are no ads, customizable chat fonts/colors, and private messaging with other dudes in the room. I don't really think it's worth it. I would do it if you received a discount on tokens or something, but you don't. PS I have never seen any ads anyway.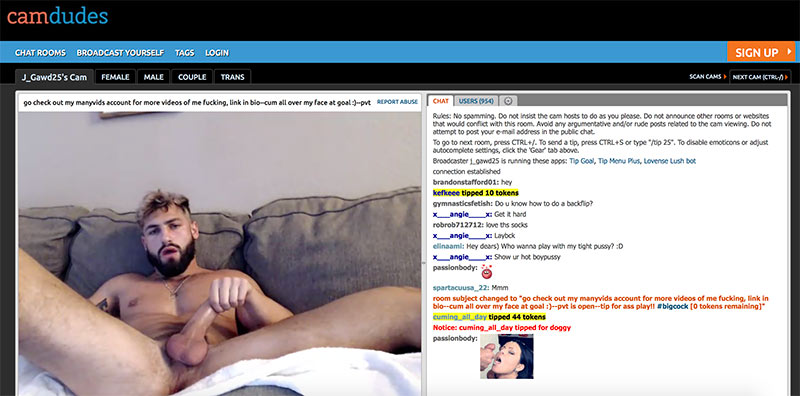 Using CamDudes.com
The site is really user-friendly. The top of the user-interface has links that say "Chat Rooms"; "Broadcast Yourself"; "Tags"; and "My Collection".
"Chat Rooms" is pretty self-explanatory. 6 tabs appear labeled, "Featured"; "Female"; "Male"; "Couple"; "Trans"; "Spy shows"; and "Followed". Featured refers to the most popular girls in school. (I've never seen dudes on there before).
Spy shows are super cool. If you are broke, but horny as fuck, you can spy on someone else's private show pretty cheaply. I've spied on about 10 (yeah…I'm a cheap horn dog). The price's ranged from 6 tokens per minute to 13 tokens per minute. That's 60 cents to $1.30 a minute. Be smart about it. The dudes in fancy beds cost more. Go with the rough trade looking white trash boys with wood paneling in their rooms. That's where your 60 cents will get you off. Plus, you'll be helping Jim Bob renovate his trailer with your tips. That's a win-win boys.
Once you choose a specific cam to whack to, there is an orange button on the bottom right of your screen that says, "Follow". If you click that button, then every time you log on to the site you will see the number of guys that you follow that are currently online. The site will ask you if you would like to be notified when one of your lover boys signs on as well. The system will send you a text message.
"My Collection" was a bit of a surprise for me. I didn't even realize what it meant until I reviewed this site (Remember that this site is pretty much Chaturbate.com). All of those private sessions that you jerked off to are recorded automatically for you. That's right. You can watch your boy toy beat his meat and moan your name any time that you want. There is no expiration date on those vids either guys. You can literally wank down memory lane whenever you want to. This is the first site that actually saves your videos for you.
In the Spank Bank
This site has everything and everyone that you could want to whack to. The models range in age from twinkies to dirty grandpas. There are hot dudes with 6 packs, frat-tastic fuck boys, furry daddies, subs, doms, black, white, latin, gaysian…. everybody is on here jerking their dicks off.
The models have carte blanc to do whatever they want to do. Some nights, there are guys that will do "crazy ticket" shows where they will post a ticket price and close the cam only to buyers. The prices are not expensive. I went to two. One was 69 tokens= $6.90. The other was 50 tokens=$5.00. For $6.90, I watched a hot straight boy bang himself with a black dildo for 5 minutes. These dudes cum too. There is no 40 minute private sessions to get them to cum. When they have to blow, they blow.
The other cool thing is that many of them have a "hush" device. If you haven't heard of these devices, you need to check them out. They are Bluetooth butt plugs that the models connect to your tips. They go off for a number of seconds depending upon the amount of the tip. You can see the light flashing as it goes off. Not to mention, these boys will call you out by name.