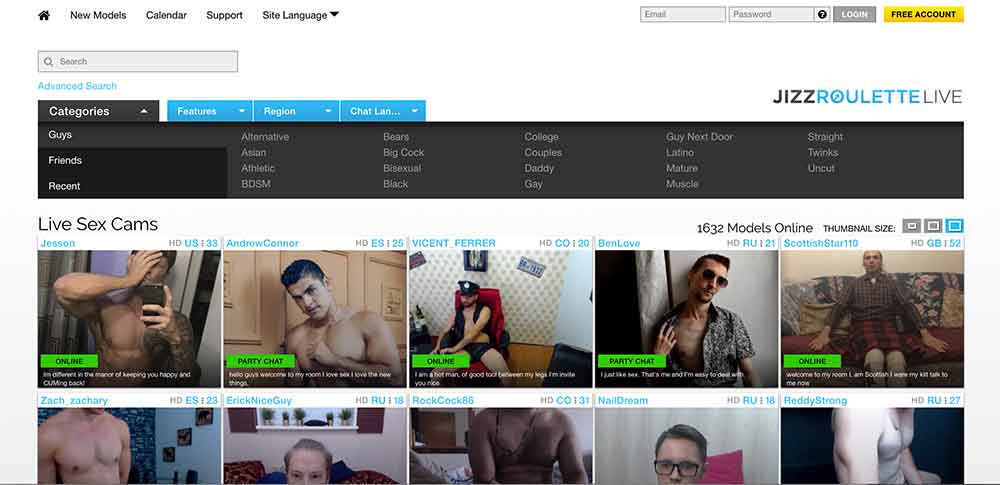 8
Content
8
Price
8
Features
Visit Jzzroulette
Streamen.com owns this website, so the user interface is similar, except it works better. However, I'd actually give this site a higher rating. If you play for the blue team (HORRAY!) because it is all boys. This is by far my favorite site thus far. I have NEVER seen so much free dick on any cam site. I had a chub in less than 2 minutes. I lasted that long too, but you know..whatever..it was a free tug.
Getting Started
Jizzroulette is easy peasy to set up boys. It's not sketchy at all. You don't need to enter your credit card number to join, so no random cyber pimp to deal with. You also don't have to worry about that dollar hold that never gets returned. You simply put in your email, verify it, and enter the free space. Many of these cam sites immediately send you to the 'buy tokens' page, but not Jizzroulette. You'll only need to enter your credit card to tip the boys or go private. Other than that, you are ready to stroke in 45 seconds, so hit enter and lube up.
Using Jizzroulette.org
The top right is the most important part of the interface for anything account related. There are simple to understand icons, so there shouldn't be a need to talk to support. I'd recommend going to your account directly. The layout of the interface is really easy to use and you can actually create a personal profile that the models can see. All your payment information can be saved. You can even set up mobile notifications or email notifications, so you'll get notified when the dick is on sale, discounted, or even when there are cock freebies. I recommend the mobile notifications. They seem to cum through faster. It's really cool to get them at work. You can run into the John and pump to Juan when he's on sale. Plus, you can set a maximum number of alerts per day, AND set your receiving times. So, if you're going out to dinner with mom, you can change your receiving times to avoid having to hide your boner. That goes for you too straight boys. No need to worry about your down-low dick boy messaging you while your girlfriend is making you watch The Notebook…again. Jizzroulette will keep your secret for you.
Dicking Around with your Romeo
You can limit mobile notifications to only those from your favorite boys. Just click the heart symbol at the top right of the main user interface page and all your favs are there waiting. Jizzroulette will automatically add them to your mobile notifications list. You can remove them anytime too.
My favorite part of the interface is the email/message option. You can send email messages to the models, regardless of whether or not they are online, and get notifications on your phone when they reply. Most importantly, they do reply. PLUS-it's free. You can write love letters to lover boy anytime that you want to, and he'll probably respond. It's fucking cool.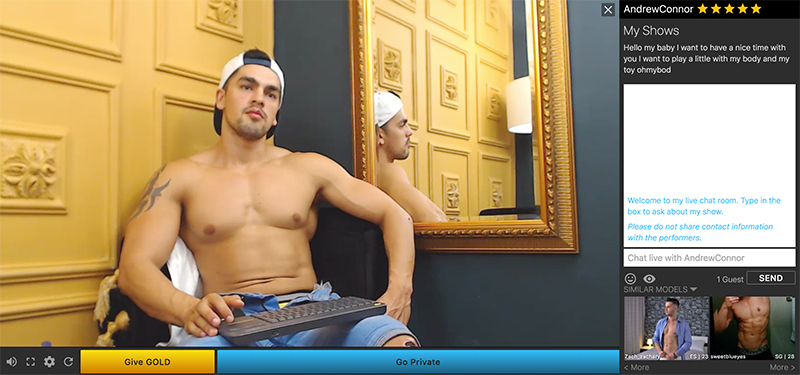 Customer Support
In general, I find web cam support dudes to be mindless dick pimps with an attitude. Customer support agents on this site are knowledgeable and quick to respond.
Dollars and Sense
This site gives allows you to set a daily spending limit or pre-pay. You'll receive a notification when you are close to your limit, or your pre-paid balance is low. Basically, they'll let you know that it's jackhammer time. Models set their own rates for private shows and you can negotiate with some of these guys. That's a rarity in the cam world. For once we are getting dick instead of dicked over by the free market system. The rates range from $1.99 to $2.99. There's also a matching 'one-time' connection fee. That's the staple hustle on all these sites. The models cannot change that. That dough goes to the fat cat in the front office. Asshole.
However, these dudes actually give you some free time with their dicks. I talked to about 10 models. 10/10 stood up in their little underwear and rubbed the outline of their hard dicks. 8/10 played with it through their underwear. 7/10 pulled the fat fucker out. One of them actually let me watch him fuck a flesh light for 10-15 seconds for free (twice!); and one of them kept it out jerking it off and on for 3-4 minutes. His name is "Scottie_Kobe" by the way. He has a FAT Colombian cock and he was slapping his beautiful cock on his palm while rapping like a pro. Full service free entertainment. Plus, the dude actually had a verbal conversation with me. I came for…. zero dollars and zero cents.
You can lube up and start stroking before you have to pay a penny. These dudes will have conversations with you and you will almost definitely get to try before you buy. No more lying bros that describe their cock as "big", and you end up paying $20 for a basic white boy dick. If a guy on this site doesn't give you a free taste, then move on. The boys on this site are in it to win it dude.
The Boys
You can filter the boys by the normal porn categories: Bears, Big Cock, College, Daddy, Latino etc. There's a diversity of ethnicities, dicks, and body shapes throughout this site. You'll find a cum buddy in no time. The photos are really close to the reality too. No coyote ugly on this site bud. Also, don't forget that these dudes will swordfight a little for free. No bait and switch either. These dudes are actually horny as fuck and aren't afraid to show it.
I have to say, I had a hard dick in one hand, and was having conversations with the other. I've never seen so much free dick on a cam site before. I kinda feel like I'm dating Scottie. My boyfriend is pissed, but whatever. I'll always have my Colombian dick boy. Plus, Scottie's dick is bigger anyways.....Shhhhhhh. I didn't say that.